New Blow Up Your Friends Skill!
Do you find RS2 very lonely, sometimes...depressing?! Well, fear the individuality no more! Jaggedex releases their new concoction to entice more Noobies into members, by the addition of these New Blow Up Noob Dolls! These life-size characters, which you can cloth and alter as you wish, will follow you wherever you go in Runescape!



Blow me! These new Noob friends are very realistic!
These top quality leather mannequins. inflated by Ogre Swamp Gas (TM), will NEVER leave your side, hold you hand, and utter phrases such as "Noobie loves you" ; "Uh oh, pkers" ; "I have to go log and poop!" and, "Will you be my frend?" These hand crafted 'so-life-like-they'll-fool-a-pker-while-you-can-run-off' dolls are available from the new Viking Craftsman, at only one million gp. Reports of Noob Dolls exploding and killing RS players while they enjoy a spot of shrimp cooking, have been circulated, but we had no reason to believe the scorched player with 3rd degree burns who told us, as he had no receipt to prove his purchase.
By Spooksprings (J.M.B. 2004) pumping his Noob up, on assignment.

Velcro Pads Agility Update
~ Is being stuck to a wall cheating, or merely coat-ist?! ~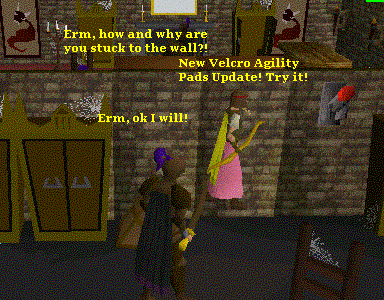 Released this week, sometime next century, new experimental stick on Velcro pads were issued to Noobies who wish to level their agility skill. The aim is to help Noobs at low levels get over obstacles by throwing themselves, or being thrown, onto walls to give them a head start. But don't worry, the velcro makes them stick to the stonework! Plans are underfoot to develop the dwarf cannon to help with this skill, but a drunken dwarf told us "This isn't a f-f-f-flipping circus u nowe, hic!" Jaggedex are looking for volunteers to test the new velcro pads by throwing themselves off the Scorpions Gorge, onto the other side. "It's only a 300 foot drop, so they shouldn't be too badly broken if the velcro doesn't stick.", said a Jaggedex representative.
By Spooksprings (J.M.B.) 2004. Reporter, stuck to a 20 foot wall, somewhere in Varrock, on assignment.

Advertisement

Lessons In Lycanthropy!
Take a trip down to MysthaNooblin, new lands to the East, making sure you take your magic tuning fork, and you'll encounter a village, precariously under siege by foetid swamps on all sides. In all appearances a normal village, until you look at bit closer at the teeth of the men & women there and bother to talk to them before slicing them up...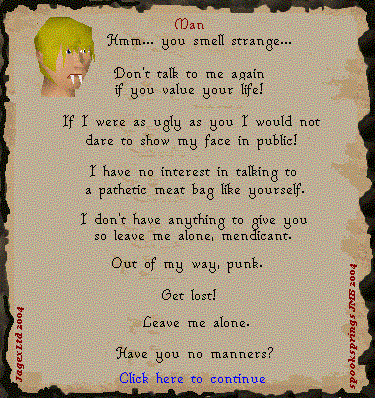 When Men Turn The Other Cheek
It appears that the men of Runescape have had their fill of polite conversation with people, whom they know are out to slice and dice them and send them to the sausage factory, and aim to get tough on the industry of carnage before they are all extinct!

"We had a Brotherhood of Man meeting", says Man, level 2, with fangs, "and decided that playing on people's fears with nightmarish surprises was the best option, so turning into a werewolf when we are attacked has had much success! We even managed to frighten off that lezza, Duffy the Vampire Slayer!"

Sources say that Werewolves, despite fearsome legendary status, are NOT dangerous, unless they bite out your neck and drain you of blood.

These barking mad men, out in the mid day sun, will teach you all the insults a Runescape lvl 10 Slipknot Fan needs in his daily doings and loggings. So, do YOU have anything in common with these unfortunate beasts, touched by the tastes of the rabid moor hounds? Are YOU a were-man-wolf?! Take The Test!

1. Do you have excess hair growing in strange places (under armpits, between legs, on chest etc)?

2. Do others notice you frothing at the mouth and becoming frisky, mounting furniture and biting neighbours in a Full Moon Episode?

3. Do you bark back at dogs, chase them, steal their sticks, and slaver at the site of Chum on the Wal Mart Shelves?

4. When caught short, do you drop your kegs and empty your cargo in the middle of the street, oblivious to the gasps of the OAPs and your mother running toward you with a pooper scooper?

4. How loudly can you howl? Do It Now! Out Of The Window!

5. Do you play Runescape?!

If you have answered YES YES YES! to these six questions, you are a definitive, boney-fied, wirey-haired hound of the darkness, a blood sucking, night crawling, baby crunching lycanthropic werewolf, and you could do with a muzzle, while you play RS. And hey, these are MY bones, you walking floor-rug!!! If you answered NO NO NO! don't worry, we hear that turning into a vampires will become fashionable in the next update.
By Spooksprings (J.M.B. 2004), fanged, hairy, on assignment.